12 novembre 2010
The New Orléans Afrikan Film and Arts Festival Project
presents
Cinéma Première Inside/Outside at the Café Rose Nicaud !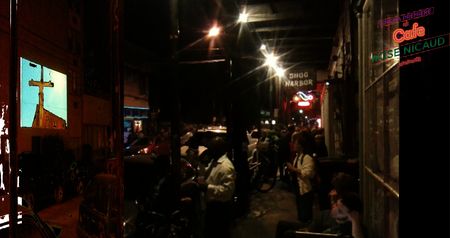 Six independent films will premiere over several months (October 2010 – April 2011) at Café Rose Nicaud

(632 Frenchmen Street, 70116).

The directors will accompany their films to answer questions about their subjects and techniques.
with special guest Cambria Matlow, Director


Cambria Matlow, Director/Producer/Cinematographer

Cambria Matlow co-founded Birdgirl Productions in 2005 to support this project. Prior to this Cambria directed and lensed several short narrative films, including THE SACRED CLOWN, an experimental film about Che Guevara that examines the cultural consequences of political idolatry. She's helped produce the Vermont International Film Festival and in New York she's worked in development and production with social issue media organization Arts Engine on several documentaries including Rose and Nangabire and Nicaragua Dreaming. Now, in her role as manager of non-theatrical programming at Film Movement, she leads nationwide distribution and outreach efforts for award-winning foreign and American independent feature films. Cambria holds a Certificate in Film Production from Burlington College in Vermont and a B.A. in Hispanic Studies from Columbia University. She has driven across the United States six times, lived in Spain and New Zealand, and traveled abroad extensively, including time spent in Morocco, Singapore, Central America, Mexico, and Eastern Europe. BURNING IN THE SUN marks her documentary feature directorial debut.

Morgan Robinson, Director/Producer/Cinematographer

Morgan Robinson began his filmmaking career in the production department for Spike Lee's HE GOT GAME and SUMMER OF SAM. He attended the New York Film Academy and his narrative short CATABASIS won first prize at the Dominique Dunne Memorial Film Festival and a Golden Apple at the National Educational Media Network Film Festival. Morgan assisted filmmaker John Halpern shooting and producing his documentary film ANGER on location in Mexico, Colorado and Arizona. Subsequently Morgan took on the project of co-directing and photographing BURNING IN THE SUN, and has been working on every aspect of this film since 2005. In addition he has produced the promotional video JI DUMA: BRING THEM WATER, as well as a narrative short, HANDS and a documentary short, THE DOMINO PROJECT. Recently Morgan produced and photographed John Halpern's latest documentary ONCE PARADISE on location in Kashmir, India. Currently he is an associate producer at Punched in the Head Productions making the Emmy-winning show True Life for MTV. Morgan studied religion at Columbia University and speaks English, French, Spanish and Mandarin

About the Film
At the beginning we wanted to make a movie about everyone we had filmed during the three months and 140 hours of tape we shot in Mali, because each character was so fascinating and vibrant – we could have made a different and exciting movie about any one of them, from the sole female schoolteacher Olga Sidibe in Banko village to Dr. Richard Komp, the mad scientist who acts as Daniel's mentor. After months of editing though, it became clear that Daniel Dembélé – passionate, complex, and commanding onscreen – was to be the main focus, and that his story could best encompass the issues we wanted to delve into in the film.

Founding a small business is something that is deeply embedded in American and European culture, a topic to which many can relate. But most have never seen this universal kind of effort take place in Africa, traditionally marked out by the media as the land of the starving, the war ravaged and the hopeless. In our portrayal of Daniel, who undertakes a familiar effort in an unfamiliar environment, we attempt to open the door to what is possible in Africa, and update Western cultural awareness with a profound dose of optimism. For us, Daniel's work shatters notions of the need for African dependence on outside aid and embraces the view that ultimately it is Africans who will develop Africa in their own way.

BURNING IN THE SUN is often labeled as a film that is 'African' or 'Environmental', but our goal in telling this particular story is to disegregate these two topics, and to encourage niche audiences to join together in dialogue, and start a new discussion on the world stage. Strikingly beautiful, surprisingly emotional, and a revolution of ideas, the film provides a newschool portrait of a Green Africa capable of inspiring worldwide emulation.

Web: http://burninginthesun.wordpress.com/
Trailer: http://burninginthesun.wordpress.com/trailer/

Visit us Facebook

For more information

Email noafest@neworleansafrikanfilmfest.org

Tel 504-942-8542
Commentaires sur Cinéma Première Inside/Outside at the Café Rose Nicaud !