The second annual
Mississippi River 9th Ward Film and Arts Festival
at the

Bayou Road
2523 Bayou Road
New Orleans, LA 70119
Music, open air market - 3 pm
Salon littéraire et artistique I with Gwendolyn Midlo Hall - 4 pm
8 pm
Bamboozled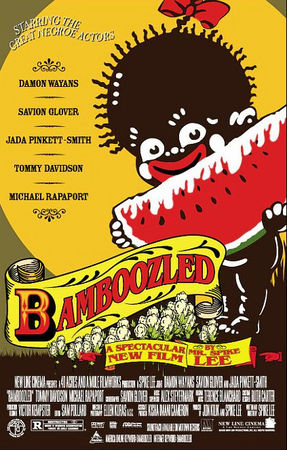 Fiction | 135 mins | USA | 2000
Film directed by Spike Lee
"Delacroix plans to write a show that will be so "offensive and racist,"
it will prove his point that the network only wants to see black buffoons on the air…."
As the show becomes a success, tempers at the network flair and then comes a tragic conclusion.
Written by Satchmo_on_Satchmo.
5:30 pm
Kora Konnection
& Zion Trinity
will precede the screening
"Midnight Shrimp Boil" with ginger beer - 11 pm
Bayou Road Sunday 3
Salon littéraire et artistique II, Children write and read - 3 pm
The Community Book Center
More than a book store". Featuring African-centered books, art, fabric, gifts and more. Available to schools, churches, community events for storytelling, book clubs, performance venue, meeting space and book fairs. Will do special orders.
The Community Book Center, a locally owned bookstore, is focused on celebrating the heritage and tradition of these vibrant and historic communities. The Community Book Center hosts monthly story telling events for area students, film showings, group discussions, while also serving as a meeting place for local charter schools and community groups. As much as the Community Book Center is a bookstore, it is also a community institution with deep roots in these neighborhoods, and is very dedicated to supporting its neighbors.
Community Book Center
For more information
Email noafest@neworleansafrikanfilmfest.org
Tel 504-899-4382
http://neworleansafrikanfilmfest.org